Fall protection training – everything you need to know
Health & Safety
fall protection training

Sponsored by
eSafetyFirst
What is fall protection training, and why is it important? Learn everything you need to know as a business owner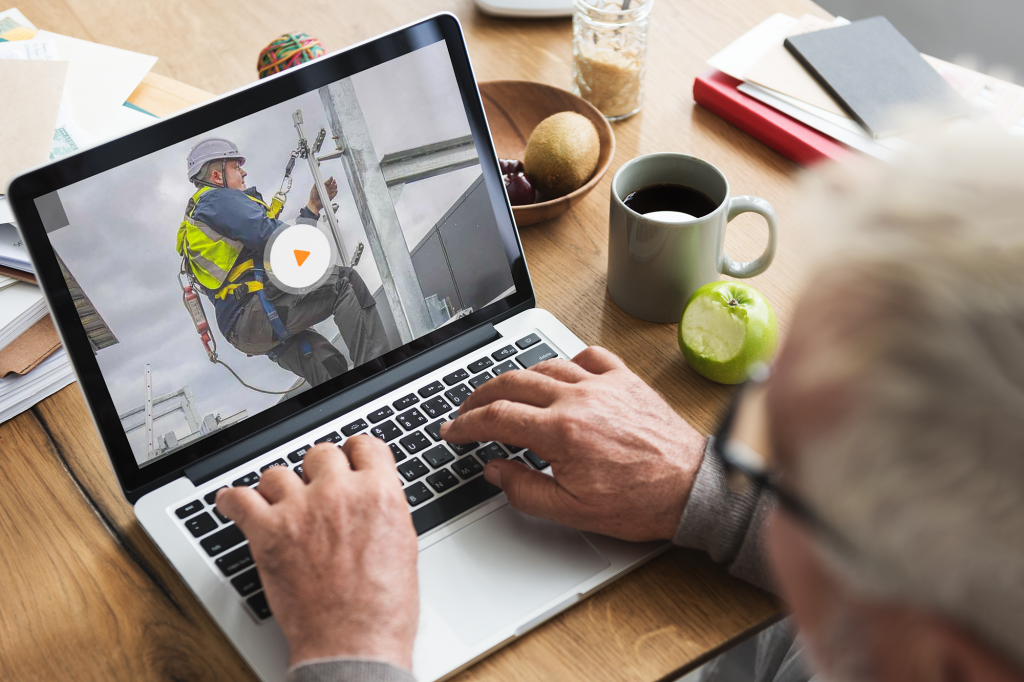 According to the labour laws, it is the duty of the employer to develop a written fall protection policy and procedures relevant to the workplace.
One of the first steps to take here is ensuring your employees undergo OHS certified fall protection training as needed.
Whether you opt for on-site training or off site training is entirely up to you. However, before making a choice, you need to understand what an OHS fall protection training program is and its benefits for your business.
What is fall protection training, and why is it important?
Fall Protection training is designed to help employees understand the severe risk of injury when working at heights. If your employees are working at any height above 10 feet, they should have the best knowledge of the risks involved and how to protect themselves.
Fall protection training cuts across all aspects of using fall protection equipment, such as harnesses or ladders, to minimize or avoid accidents from heights altogether. It is one of the most critical safety requirements for construction workers as well as the mining, oil and gas, and forestry industries.
The fall protection training course should cover hazard prevention, fall protection systems and outline the procedures a worker must follow. For example, workers are typically required to wear personal protective equipment (PPE) at their jobs.
As the employer, you should ensure your employees take part in fall protection training as part of your workplace safety precautions. You might hire a site supervisor who enforces the required rules in the workplace.
How often should I provide training to my employees?
Every province in Canada has its unique fall compliance regulations. However, some general rules apply.
Occupational health and safety act requires action when a worker has the potential to fall about 3 metres (10 feet). This means that if you perform work with a fall hazard of over 3 metres, then all your workers require training in fall protection.
Another thing to consider here is workplace changes. Whenever these changes happen, whether in terms of new equipment or updated processes, employees need to undergo an updated training with new course materials that bring them up to speed with the latest training requirements.
Sometimes, workers do not grasp your fall protection plan at the first go. For such employees, organize further training that brings them up to speed.
The standard recommendation is three years between each fall protection program, but you can extend or shorten this duration based on your discretion.
How do I develop a fall protection plan?
Since your employees work at heights, you need a unique fall protection plan that captures the peculiarities of your business.
You can pick an idea or two from available templates, but in the end, you need a plan that works for you. There's no one-size-fit-all-approach here.
What is a fall protection plan?
Fall protection plans outline the policy and procedures involved in assembling, maintaining, inspecting, using, and dismantling equipment such as ladders, scaffolding, or platforms used for working at heights and any fall protection equipment.
One of the most important things to do before developing a fall plan is to speak with your employees who are directly at risk of fall hazards.
You'd want to ask them questions like:
How can we make this job safer for you?
What safety challenges do you encounter in your job?
These pieces of information would give you a sense of priority areas for your plan.
What should I include in my fall protection plan?
The essence of a fall protection plan is to minimize height-related accidents in your workplace as much as possible or eliminate them. This means outlining the steps that protect workers from thumping the ground or sustaining injuries from the use of equipment or machinery.
Your fall protection plan also needs to cater to the situations when accidents do happen. This involves detailing emergency responses, first aid, and subsequent care methods for injured workers.
Here are a few things you should consider when writing a fall protection plan:
Have site-specific fall protection that highlights your work area description, the tasks your employees handle, and the address of your factory.
Cover site-specific fall hazards: This is where all the information gathered from your employees comes to play — highlight specific risks like the maximum work heights, ground cover, and the like.
Go over the type of fall protection to be used and list their clearance requirements.
Any equipment inspection needed?
State your specific emergency rescue procedures and workers' sign-off formats.
You should prepare your fall protection plan beforehand and ask a fall prevention trainer to review it. The trainer would advise you on any adjustments that need to be made before the program's implementation.
Summary
Falling from heights is one of the most common accidents in Canadian worksites, with far-reaching consequences for anyone involved.
To keep these incidents to a minimum, business owners and site managers should prioritize fall protection training courses that equip workers with the right safety knowledge.
For example, eSafetyFirst provides an accessible online training platform that allows workers to learn about safety at their own pace from wherever they are.
Upon successful completion of the safety training, your employees will understand your workplace's standard safety acts and practices.